The new Brazilian Bidding Law (Lei 14.133/2021 and Ordinance GM-MD 5.175/2021) demanded changes in the purchase process conducted by the Brazilian Aeronautical Commission, starting April 1st, 2023.
The current Invitation for Bid will have its legal prevision ended by March 31st, 2023, giving place the Electronic Reverse Auction as main purchase strategy.
Rules and regulations for this modality will be published in a new version of the BACW Standard Terms and Conditions. Nevertheless, considering the importance of preparing our suppliers, we prepared some content to help companies getting used to this new scenario.
- Registry and Qualification criteria
In order to permit a larger range of suppliers to see the RFQ available for quote, it will be necessary to separate the registry into two phases, registry and qualification:
1 - Registry can be summarized as giving the company a username and password after checking its basic information. Thus, registering is necessary to access the e-RA portal, which gives the company immediate access to make offers. If your company already has a username and password, the Registry is to be considered complete, and there is no need for further action.
2- Qualification process demands the evaluation of documents that serve as proof of criteria fulfillment. Qualification is necessary to contract a company or to issue a purchase order for a supplier.
-e-RA: the Electronic Reverse Auction Process at the Brazilian Aeronautical Commission
We are living a new e-RA of making business with our suppliers. The Electronic Reverse Auction purchasing strategy demanded process changes, which are detailed on the following diagram.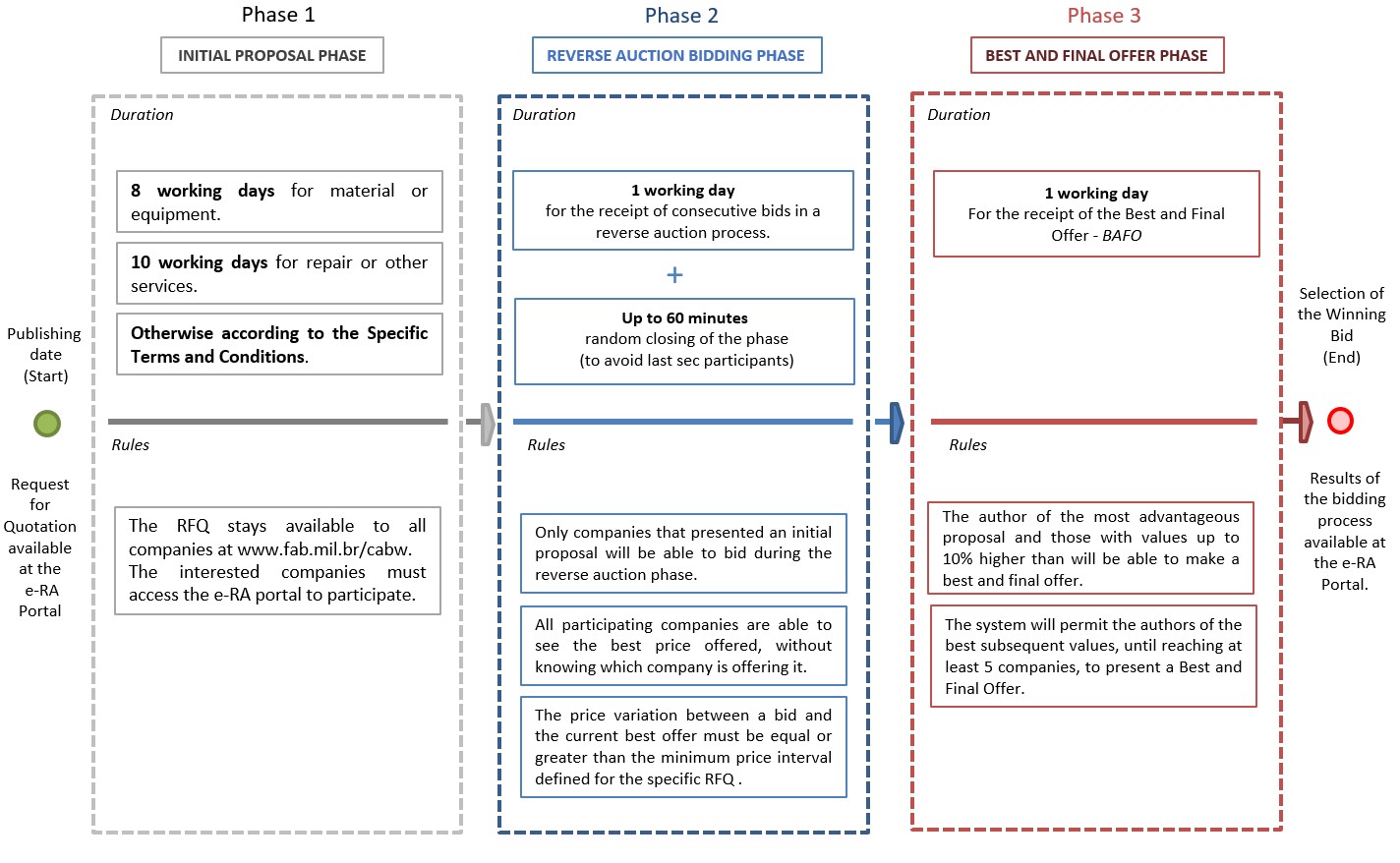 - Intention to Appeal and Appeals submission
In the Electronic Reverse Auction, once the winner is declared, any bidder may, during the period of 30 minutes, in the e-RA system's specific field, express their intention to appeal.
The reasons for the appeal must be presented within three days, including the documents that support it, as the case may be, using the e-RA system's specific field.
-Trainning content
Need more information about how the process happens in the new e-RA system?
Check the following files regarding very important topics of the e-RA.
Contact This email address is being protected from spambots. You need JavaScript enabled to view it. to receive more information.
Topic 1: How to register for participating in the Electronic Reverse Auction (e-RA) bidding process and qualifying for PO.
File: BIDDERS REGISTRY AND QUALIFICATION CRITERIA.pdf
Topic 2: How to participate the Electronic Reverse Auction (e-RA) bidding process.
File: HOW TO PARTICIPATE ON THE E-RA PROCESS.pdf
Topic 3: When and how to make an appeal after a bidding process using the e-RA system
Topic 4: How to access the Purchase Orders and Invoices related to your company – Content to be uploaded soon.
Still have questions? We will be happy to answer them through the chat available at https://www2.fab.mil.br/cabw